When cooking up a total kitchen overhaul, it's crucial to keep perspective on all pieces of the puzzle or risk losing yourself along the way. Your revamp doesn't have to be exhaustive, but should be a concise process that brings together elements of storage, convenience, and sophistication in order to frame this space as the centerpiece of your household in 2022.
Cabinet Confections
Cabinets are like the eyes of the kitchen. Not really, but they are of EXTREME importance in the capacities of storage and functionality. Sure, aesthetics are important too. Between varnish and style, you have a lot of choices to make. Those, however, should come secondary when considering practicality in what kind of cabinets you need.
From the Base
Base cabinets lay the groundwork for the design of your kitchen. Positioned at the base of your kitchen floor, they support countertops, sinks, and cooktops. They are known to house a wide array of items, from cutlery to kitchen gadgets and even the common "junk drawer"
Wall to Wall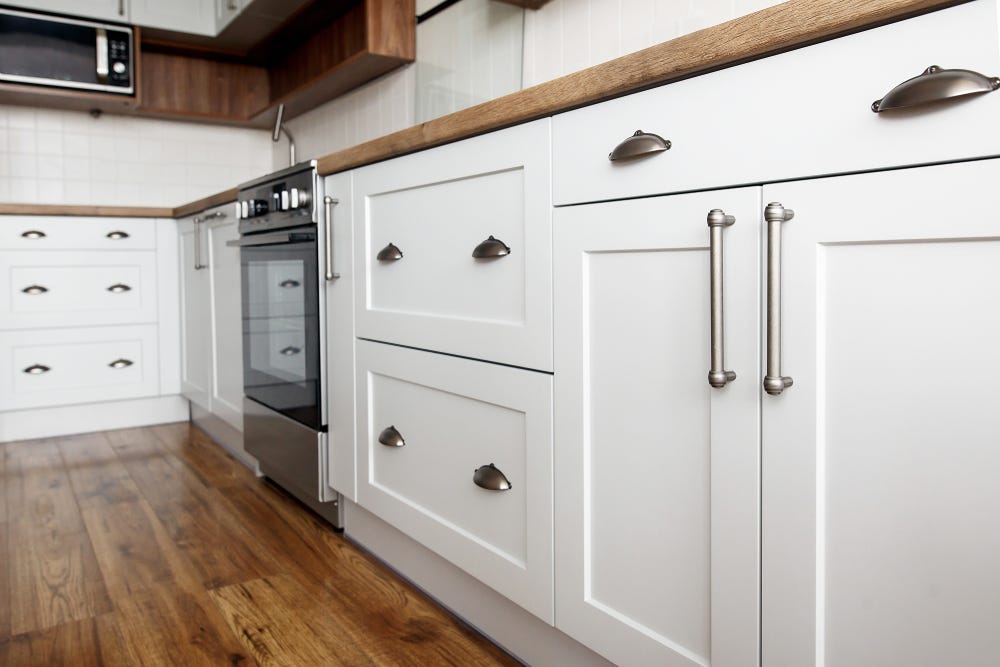 Fixed to the walls of your kitchen, they are the visual centerpiece of your kitchen. They often hold plateware, cups, glasses, and more. You can even Glass cabinets offer a way to display these dishes. They are more customizable than base cabinets, yet usually need to be placed directly below their lower counterparts.
You Must be This Tall
Tall cabinets, or utility units, save you room in even the smallest kitchens. Tall floor cabinets come in a variety of heights, including floor to ceiling, mid-length racks, and free-standing units.
Watch Your Blinds
Blind Corner Cabinets fix the dead zones located in the corners of your kitchen, between your base cabinets. The name derives from the cabinet's hidden space, an extension to the adjacent wall. With these cabinets, it's best to use roll out shelves, which project out of the cabinets. This provides easier access to your items.
Slide into Shelving
If you find it hard to bend down and search for what you need in your base cabinets, you're in need of a sliding shelf. Sliding shelves extend out on tracks, giving you quick access and helping you avoid clutter building up in your cabinet.
Let's Get Vertical
Vertical dividers are some of the best organizers you can use for your drawers. Vertical dividers are for storing large, flat objects, like cutting boards, small pans, baking sheets and even plates. Adjustable dividers can easily be shifted around, giving you the chance to change any compartment's width to your preference.
Put it in the Bin
Install a pull-out trash bin rack. Set up within your base cabinet, this rack allows you to tuck your bin away until the moment you need it. Just pull it out, throw your waste or dispose of the bag, and close the drawer when you are done.
Pro Tip: If you'd like to recycle, use a double trash bin rack so that you can sort your waste from your recyclables.
Tilt-Out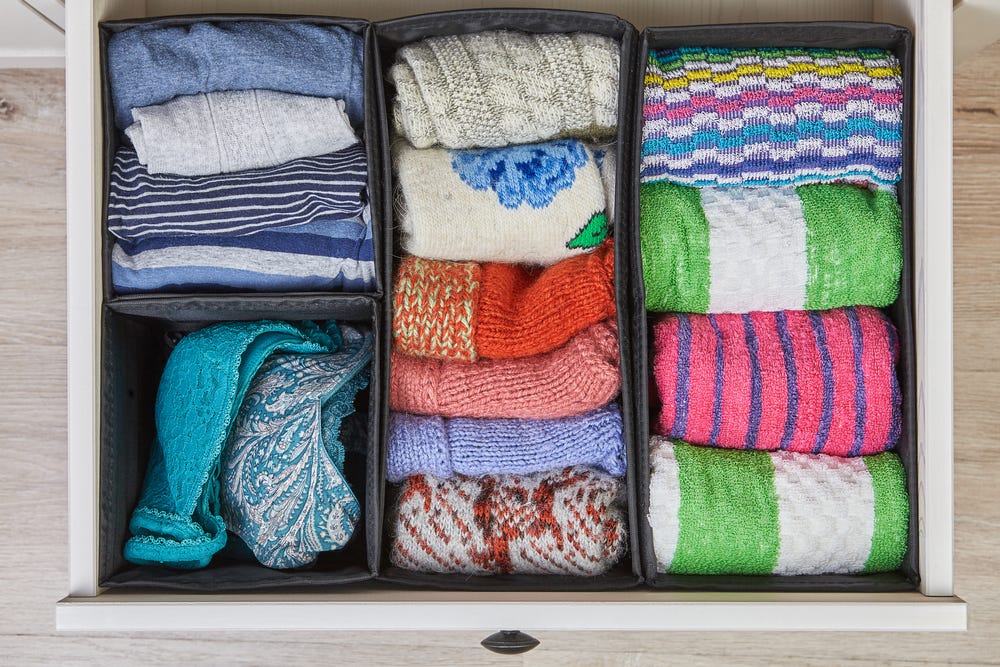 Looking for a place to store your sponges, brushes, and other small items? Add a tilt-out tray to your sink area. Positioned at the top of your sink's base cabinet, they're perfect for keeping small, essential tools for cleaning.
Heel Toe, Toe-Kick
If you still find yourself needing more room, make use of the smallest nooks in your kitchen with toe-kick drawers. Just push open the door to utilize the space between your floor and lower cabinets. These drawers act as a solution to extra kitchenware you can't seem to fit anywhere else.
Apply Now
As for accommodating appliances, it's important to fit your kitchen with functional tech. With a market oversaturated by unnecessity, however, it's important to think about what's usable and functional for your kitchen.
Warm It Up
Built into your base cabinets, warming drawers keep your food from getting cold after cooking. When you have several meals to make, warming drawers are perfect for keeping every dish on equal footing. These drawers can also be utilized for preparing bread dough and defrosting food.
Steam Ovens
Trying to find a healthier way to prepare food? Try a steam oven. While traditional ovens heat the air from the inside, steam ovens use the circulation of steam. Steam ovens will save you time while also preserving your food's moisture, bringing out its nutrients and flavor.
Is Your Fridge Running?
A refrigerator is the essential kitchen appliance. This makes upgrading it worth careful examination. It's important to know the benefits of modern smart fridges. Some capabilities to watch out for include:
Touch Screen Interface
Internet
Customizable cooling options
Internal cameras
AI that recognizes food storage and provides ideal temperatures
Connects with other smart home devices
Upgrade Your Dishwasher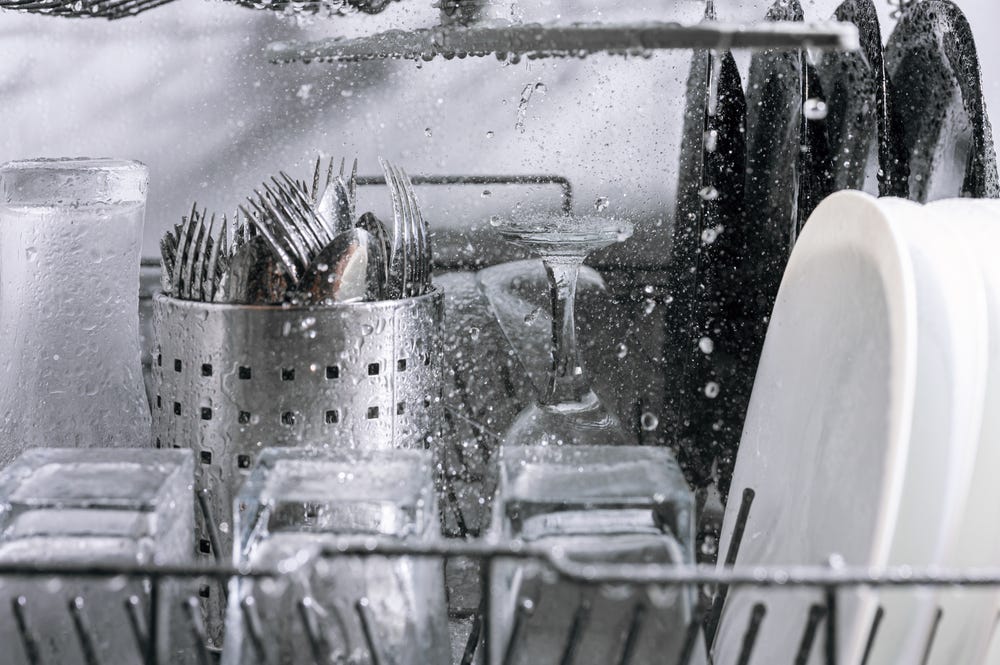 Your kitchen is at its most convenient when equipped with a dishwasher. Modern dishwashers can also come with new tech. Adjustable-height racks will raise when pulled out, easing the labor of loading and unloading. Others offer silent wash cycles, and some even clean tough-to-remove food from your dishes.
Over the Countertop
Countertops are the basis of your kitchen's aesthetic and can make or break the foundation of its very foundation. From lavish stone to modest plastics, picking the right countertop can be a tough decision, as you'll need one that's durable, aesthetically pleasing, and within your budget.
Granite on Granite on Granite on Granite
One of the most popular natural countertop materials. A durable and heat resistant material, ideal for the kitchen. Comes in a variety of colors: mottled white, vibrant blue, sleek black. There are even leather finishes that give your countertop a rugged texture. This option is pricey and will require professional installation and sealing.
Soap it Up
With a smooth surface, soapstone gives your kitchen an old-style kind of feel. It has less options in variety, with most countertops coming in dark gray. While it is resistant to stains and heat, scratches will leave marks over time.
This countertop is perfect for those wanting classic elegance. Consider adding similar stylings to nearby tables and chairs using custom covers or chair covers and table covers.
Marble
Marble has always held the top spot when it comes to style. Being water proof and heat proof, marble is happily used by home bakers. Although its vulnerability to scratches as well as the costs to own and repair rarely makes it the choice for a primary countertop.
Solid Surfaces
Wanting consistency in your kitchen's color scheme? Solid surface is right for you.
A modern take on natural stone, this is a pressed sheet of acrylic, polyester and resin. The slabs are uniform, without the natural imperfections of stone. These are perfect for a large island or if you would like a modern look. While they aren't as resistant to heat or scratches other material, repairs are easy and fairly inexpensive. This material comes in many colors and patterns.
Quarting style
Another alternative to stone countertops is quartz. This material will add sophistication to your kitchen. With a uniform texture and variety of colors as well as incredible durability, quartz can be the best of both worlds.
You will be able to install this countertop yourself; however, this is an expensive option as well as being one the messiest options. However, you can protect your cabinets with the assistance of custom tarps.
Ceramics are Best in Show
The most affordable so far, tiles are an option that is durable and easy to clean. They are also customizable, stylish, and can be refurbished with little hassle. Be warned that tiles may crack from the impact of a heavy appliance, and that, for many, the grout lines will put this option behind in aesthetics.